Tuesday 13 December 2016
The Minister for Finance, Michael Noonan, T.D. launched Irish Tax Policy in Perspective ─ the latest publication by the Irish Tax Institute (ITI) on December 12, 2016.
The book includes a foreword by the Minister for Finance and is developed from contributions at forums held jointly between the Department of Finance and the Irish Tax Institute. It is a series of personal reflections by 23 stakeholders on Irish tax policy and these essays will help readers to navigate the ever more complex and specialised tax policy environment.
Speaking at the launch, Irish Tax Institute president and Ronan Daly Jermyn Tax Partner, Mark Barrett, said "understanding, appreciating and reflecting on tax policy and its impact, both social and economic, is fundamental to the formulation of the most appropriate tax policies for our country, its future and its people". He added "the changed shape of global economies and the Irish economy in recent years had brought about a more intense focus on tax generally. There is a genuine yearning for knowledge and discourse on tax policy throughout society. There is an absolute appreciation that tax policy in all its shapes and forms, impacts the lives of an entire population and that there are many important threads in the fabric of Ireland's overall tax system."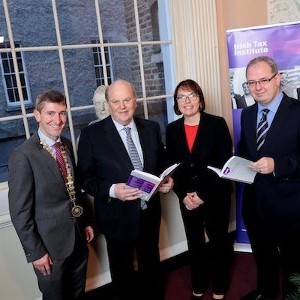 Pictured above (L-R): Mark Barrett, President, ITI; Partner, Ronan Daly Jermyn Minister for Finance Michael Noonan T.D.; Cora O'Brien, Policy Director, Irish Tax Institute; and Gary Tobin, Assistant Secretary, Department of Finance.