Monday 25 September 2017
Business must get HR ready for Brexit
25 September, 2017
Minister for Foreign Affairs and Trade with Special Responsibility for Brexit, Mr Simon Coveney TD, was the keynote speaker at "Brexit and Beyond", which took place in Ronan Daly Jermyn's Cork office on the 25 September. The event, the second in a series of Brexit seminars being held across Ireland and the UK, addressed the various HR implications of Brexit and explored how companies can help their people negotiate Brexit and the challenges it may create for them. Ronan Daly Jermyn co-hosted the event with European Movement Ireland, Fragomen, Morgan McKinley and Voltedge.
Addressing attendees, Mr Coveney said: "Brexit presents unprecedented political, economic and diplomatic challenges for Ireland. The Government's response has been unrelenting. Ireland's concerns and priorities are fully reflected in the EU's negotiating position. We are clear on what we want: the gains of the peace process protected, including avoiding a hard border; an orderly UK withdrawal; a sufficiently long and non-disruptive transition arrangement; and the closest possible EU-UK future relationship. We need to minimise the impact on our trade and economy. At home, the Government has already taken important steps to prepare our economy with more to come, including a new 10-year capital plan. But our businesses also need to prepare and the Government wants to help. Our enterprise agencies continue to work with companies, helping them to deal with Brexit – making them more competitive, diversifying market exposure, and up-skilling teams."
Head of Ronan Daly Jermyn's Employment Group, Jennifer Cashman added that: "Businesses must focus their Brexit impact assessments on their greatest asset – their people. Irish employers with operations in the UK, and vice versa, must review and audit their staffing arrangements to identify any necessary restructuring. Employment contracts, secondment arrangements and expatriate arrangements must all form part of this audit process to identify the potential impact of Brexit on existing arrangements. Employers also need to be cognisant of the potential impact of Brexit on pensions, staff retention and succession planning and determine what steps need to be taken to mitigate the impact and risks."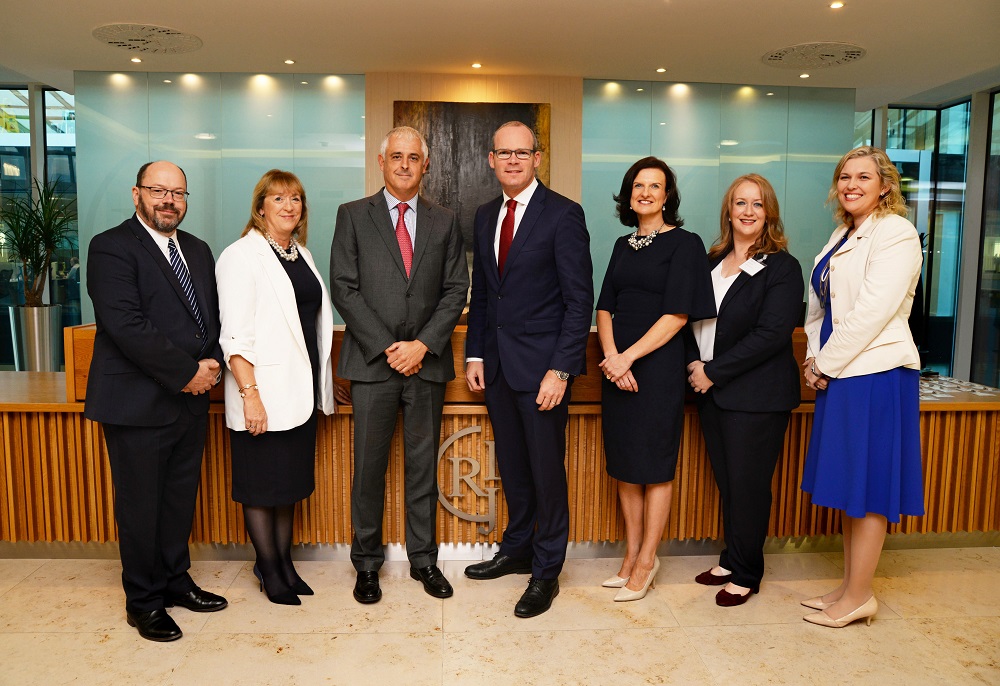 Pictured above are Bill Foster, Fragomen; Joyce Rigby Jones, Voltedge; Richard Martin, Managing Partner, Ronan Daly Jermyn; Minister for Foreign Affairs and Trade with Special Responsibility for Brexit, Mr Simon Coveney TD; Jennifer Cashman, Head Employment Group, Ronan Daly Jermyn; Trayc Keevans, Morgan McKinley; and Noelle O Connell, European Movement Ireland.