Monday 27 July 2015
We are pleased to announce that Gillian Keating has joined Ronan Daly Jermyn as Partner in our Corporate Group. Gillian is pictured (right-left) with Managing Partner, Richard Martin.
Gillian, who recently served as Cork Chamber President, specialises in the representation of emerging and mature entities in corporate finance, mergers and acquisitions and restructuring matters. She also represents a variety of private equity and venture funds in connection with their investments. Her clients include multinational, large indigenous and financial services companies, along with regulated entities whom she advises on all areas of corporate and commercial law.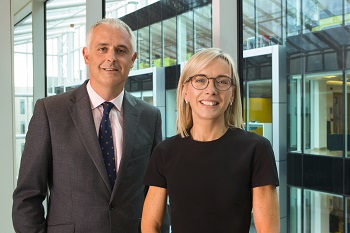 Managing Partner, Richard Martin, said, "Gillian's knowledge and extensive experience in the corporate sector will be a valuable asset to our team and we are very happy to be welcoming her to the firm."
Ronan Daly Jermyn is one of Ireland's leading law firms. With offices in Cork, Dublin, Galway and London, the firm currently employs over 200 people. Our team of business lawyers handle a full range of corporate transactions, for both private and public clients, across a broad range of industry sectors. We take an integrated, cross-disciplinary approach to addressing our clients' needs, offering coordinated legal advice in areas such as tax, employment, litigation and real estate.