Thursday 06 October 2016
Minister for Education and Skills Richard Bruton, T.D. officially launched I WISH 2017 on Thursday, October 6th in Dublin. I WISH, a hugely successful partnership initiative encouraging young women to pursue a career in STEM (science, technology, engineering and maths), will spread nationwide in 2017 with events in Cork on 9 and 10 February 2017 and in Dublin on 13 and 14 February 2017.
Set up in 2014 by Ronan Daly Jermyn partner, Gillian Keating, along with Ruth Buckley, Cork City Council and Caroline O'Driscoll, KPMG, I WISH is an award-winning partnership between Cork City Council, Cork Chamber, it@cork, Cork County Council, Dublin City Council, Dún Laoghaire-Rathdown County Council, UCC, CIT, Trinity College Dublin and Science Foundation Ireland.
Speaking at the launch Minister Bruton said: "STEM education is growing. New initiatives will continue to support greater participation and improved performance in STEM. The Government's newly published Action Plan for Education outlines plans to increase the take-up of "gateway subjects" including Chemistry, Physics and ICT at senior level and the introduction of coding at primary level and Junior Cycle. I Wish play a vital role in the promotion of STEM to girls at a pivotal moment in their lives. I am delighted to be here today to officially launch I WISH 2017 and to encourage more girls to pursue a career in STEM."
As part of their commitment to promoting STEM to young girls, the I Wish team conducted research on over 2,000 female TY students and their perceptions and attitudes towards STEM subject choices and careers. The survey, conducted by UCC, has informed a report presented to the Minister for Education & Skills Richard Bruton T.D. at the launch.
Speaking at the launch, Gillian Keating said, "Earlier this year we surveyed 2,000 girls and 75% of them said that having a career that involved helping other people was important to them. What is interesting however is that these girls are not relating Physics and Chemistry in school to careers where they can do just that – only 16% of the girls intend to do physics. The world is facing incredible challenges in the next decade – over population, food shortages, urbanisation, ageing populations, climate change. We know that the answer to all of these problems lies in STEM. I Wish 2017 will explain to these girls how big the world's problems are, we will put female role models centre stage to show them the real jobs in STEM that can help solve these problems and ultimately help people in a truly remarkable way."
I Wish takes place in Cork City Hall on Thursday 9 and Friday 10 February and in the RDS Dublin on Monday 13 & Tuesday 14 February 2017. The events are free to attend and promise to benefit young women with hands-on practical information, talks and demonstrations by women in STEM roles. www.iwish.ie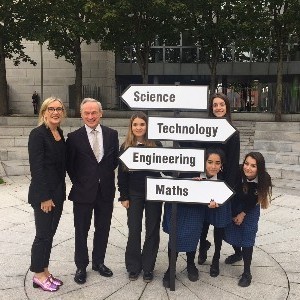 Pictured above is Ronan Daly Jermyn Partner, Gillian Keating with Minister of Education and Skills, T.D, Richard Bruton and students attending the launch of I Wish 2017.
Pictured above is Gillian Keating,Ronan Daly Jermyn (right) with Caroline O'Driscoll, KPMG and Ruth Buckley, Cork City Council, Co-Founders of I Wish.