Thursday 07 April 2016

Peter McGarvey and Mary Purtill recently joined Ronan Daly Jermyn as partners in the firm's Galway and Dublin offices. This follows the recent addition of Julie Burke, Clare McGuinness and Caitriona Moran as part of the firm's merger with JM Burke Tax Solicitors.
Mary Purtill, who is based in the firm's Dublin office, is a well-regarded and seasoned practitioner who has been advising insurance companies and self-insured entities in Ireland and the UK for nearly 25 years. She has extensive experience advising on all aspects of defence litigation, including casualty- personal injuries/fatalities in the areas of employer's liability, public liability and RTA'S, product liability, professional and medical negligence, property damage, defamation and insurance indemnity.

Peter McGarvey, who is based in the firm's Galway office, specialises in commercial property including financing, acquisition, development and construction, leasing and disposal. Peter previously spent 12 years after qualification in the real estate and construction department of one of Northern Ireland's leading commercial practices and 4 years then as a team lead in the National Asset Management Agency (NAMA) dealing with debt work-out and restructuring, enforcement, asset and multi jurisdiction loan portfolio sales, secured and unsecured lending, refinancing and commercial and residential property development.

Welcoming Peter and Mary to the team, Richard Martin, Managing Partner of Ronan Daly Jermyn, said: "Peter and Mary are fantastic additions to the firm. They are both highly regarded in their fields. Mary's range of expertise and experience in the litigation sector are second to none. Peter brings with him a wealth of experience in commercial property and will be a terrific addition to the firm's already well-regarded property team. We are delighted to welcome them both to Ronan Daly Jermyn."

Over the past 12 months, Ronan Daly Jermyn has recruited more than 50 additional lawyers and professional support staff, bringing the firm's current total to more than 220 people. The firm has seen exceptional growth across its key sectors which include banking and finance, insurance, property and real estate, technology, life sciences, healthcare, education, energy, food, beverage & agribusiness and retail.

Ronan Daly Jermyn is one of Ireland's leading full-service law firms and the only top 10 law firm with a regional presence. With offices in Cork, Dublin, Galway and London, the firm offers market-leading expertise with the benefit of local access. A staff of 220 people includes almost 100 lawyers who handle a full range of transactions, for both private and public clients, across a broad range of industry sectors.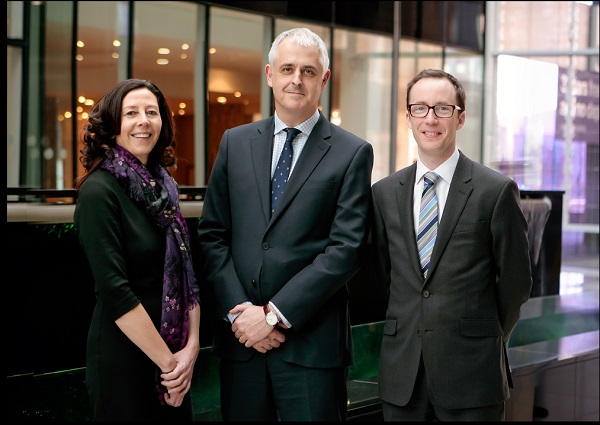 Pictured above; (from left to right) is Mary Purtill, Litigation Partner; Richard Martin, Managing Partner; Peter McGarvey, Property Partner.

For more information please contact:
Linda Kelleher
Marketing Director
Ronan Daly Jermyn
Phone: +353 21 4802757
Email: linda.kelleher@rdj.ie