Tuesday 15 March 2016

Ronan Daly Jermyn and Dublin based legal firm JM Burke Tax Solicitors Announce Tax Practice Merger
15 March, 2016

Ronan Daly Jermyn and Dublin-based law firm JM Burke Tax Solicitors ("JM Burke") will merge effective April 4, 2016.
Richard Martin, Managing Partner at Ronan Daly Jermyn said, "We are delighted to be joined by JM Burke which is a unique practice offering specialist tax litigation advice and brings with it a depth of experience dealing with a full range of contentious tax issues." He continued, "Julie and her team will be a valuable addition to our tax practice and the firm overall. They have extensive specialist knowledge and experience of Revenue law and the tax investigations process. They also, similar to our existing tax practice, have significant experience in advising at all stages of tax appeal hearings, including District, Circuit, Court of Appeal, High Court tax cases and in negotiating settlements with Revenue."

"We are excited to join Ronan Daly Jermyn's national team," said Julie Burke, Managing Partner of JM Burke, who becomes a Partner in Ronan Daly Jermyn's Tax Group. "With a full service offering and offices in locations strategically important to our clients, such as Dublin, Cork and Galway, we now offer a more robust platform and critical mass to handle the most complex contentious tax matters and litigation."
John Cuddigan, Head of Ronan Daly Jermyn's Tax Practice, said "The merger of the two tax practices comes at a time as the new tax appeals procedures come into force, 2016. The Act introduces a new appeals process, one aspect of which is that appeals against a decision or determination of the Appeal Commissioners can only be made to the High Court and then on points of law. This fact alone will mean that tax appeals will require greater technical resources to be applied at an earlier stage given the increased importance of the first stage of the appeal process. Our Tax Group now, through the merger, has the combined skills, resource and experience to provide such services to a wider client base on a national basis. Additionally, in relation to the increased activity in Revenue investigations and audits, I am delighted to note that we will now have two of the foremost experts in this area – Mark Barrett and Julie Burke – working in the one firm. "
JM Burke is a niche solicitors practice specialising in largely contentious tax work. Julie Burke and Clare McGuinness will join Ronan Daly Jermyn as Partners and Caitriona Moran as an Assistant Solicitor. Julie is a Fellow of the Irish Tax Institute and is well-known as a tax author and lecturer. In 2015, she was the chairperson of the Irish Government's Tax Administration Liaison Audit Committee. Julie was the only lawyer on the Government's 2003 Revenue Powers Group and the 2008 Commission on Taxation. She is the current editor of Irish Tax Review and she is also the editor of the Irish Tax Institute's publication "Revenue Audits and Investigations – the Professional Handbook" the second edition of which is co-authored by Mark Barrett and Clare McGuinness. Julie and Clare are also currently co-authoring a new edition of the publication "Revenue Investigations and Enforcement", published by Bloomsbury Professional, which is the only publication of its type in Ireland.
Julie, Clare and Caitriona will be based in Ronan Daly Jermyn's Dublin office at 3, Harbourmaster Place.
Ronan Daly Jermyn is one of Ireland's leading full-service law firms. With a unique geographic footprint, including offices in Cork, Dublin, Galway and London, the firm offers market-leading expertise with the benefit of local access. A staff of 220 people includes 100 lawyers who handle a full range of transactions, for both private and public clients, across a broad range of industry sectors.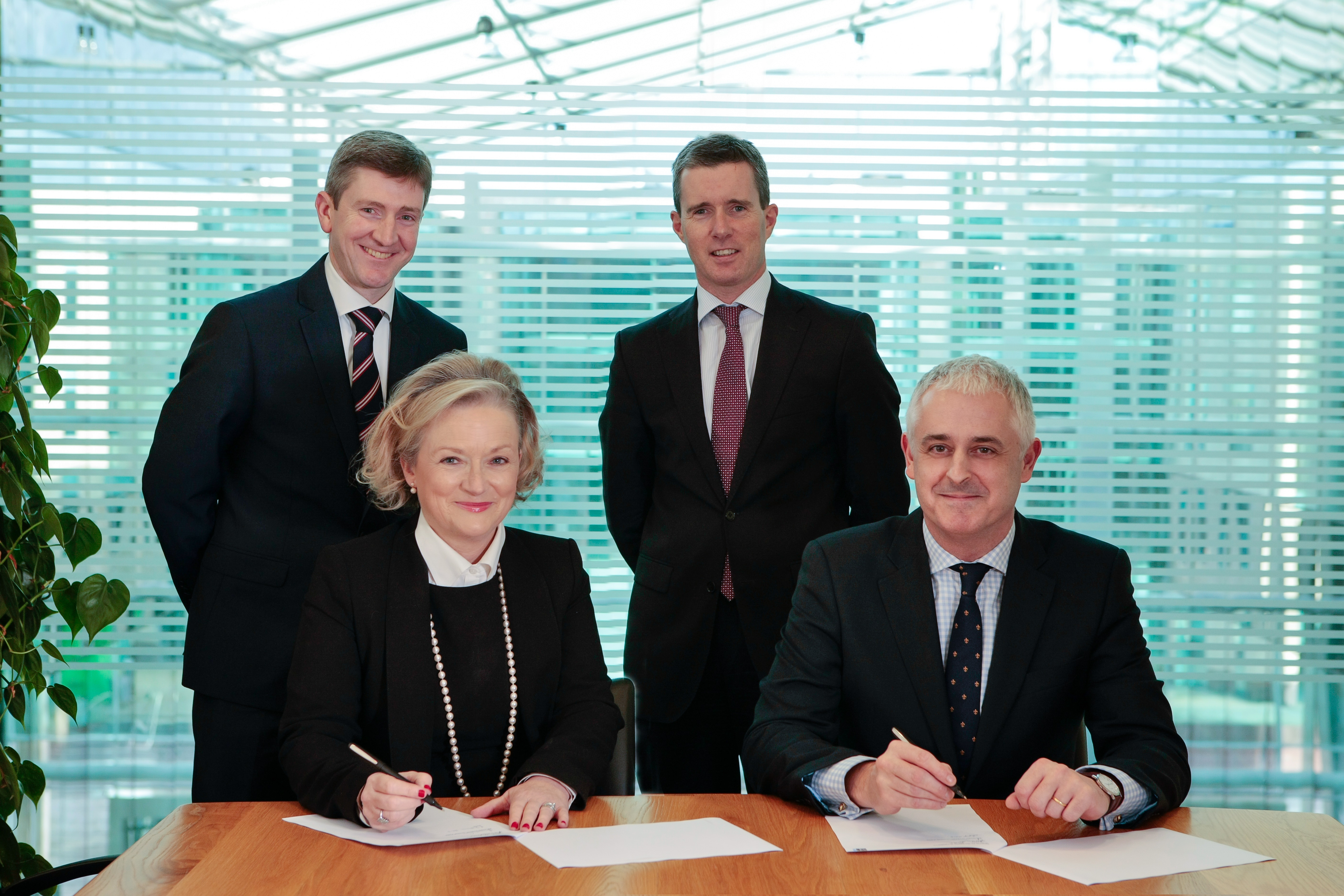 Pictured above; in front Julie Burke, Tax Partner, Richard Martin, Managing Partner and behind (left to right) Mark Barrett, Chartered Tax Adviser and John Cuddigan, head of Ronan Daly Jermyn's Tax Practice.