Friday 12 May 2017
Ronan Daly Jermyn awarded Law Firm of the Year 2017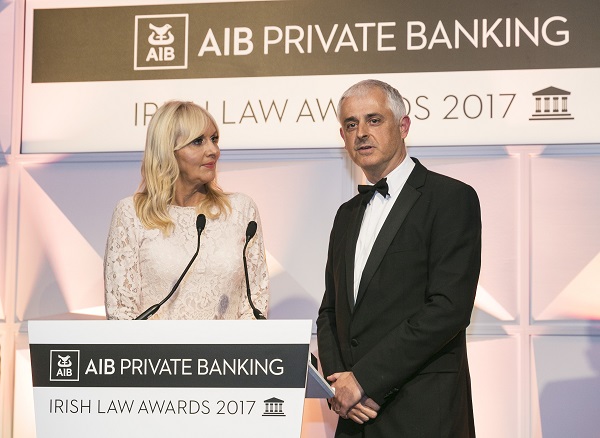 Ronan Daly Jermyn was named "Law Firm of the Year" at the AIB Private Banking Irish Law Awards, held at the Clayton Hotel Burlington Road on May 12, 2017.
In addition to winning Law Firm of the Year, Ronan Daly Jermyn was also awarded Banking, Finance/Restructuring & Insolvency Law Firm of the Year.
Hosted by RTE's Miriam O'Callaghan, the annual award recognises the firm that has demonstrated outstanding achievements and excellence in the legal profession in Ireland. It is selected by a panel of respected judges in the industry.
View highlights from the awards here.
Commenting on the award, Richard Martin, Managing Partner said
"We are delighted to have been recognised as Law Firm of the Year. This recognition is reflective of our drive for innovative service delivery in meeting the complex challenges our clients face across industries and borders. Thinking ahead for our clients is something that underpins everything we do at Ronan Daly Jermyn, whether that means developing new client-facing services, having deeper resources in a specific location or practice or leveraging new technologies to improve efficiencies." He continued "we look forward to bringing continued innovation, efficiencies and high-quality legal counsel to our clients."
Ronan Daly Jermyn is a top 10 Irish law firm, with offices in Cork, Dublin, Galway and London, and a staff of more than 230. The firm has achieved a number of significant milestones over the past four years including the opening of a fourth office, in Dublin, an increase of more than 50% in the number of employees, and the establishment of strategic alliances with firms in Northern Ireland, the US, Europe and the Middle East that have extended the firm's global reach.
The firm was shortlisted as finalists in five other categories: Employment Law Firm of the Year; Excellence in Marketing & Communications; Law Firm Innovation Award; Litigation Law Firm of the Year; and Property, Planning, Probate Law Firm of the Year.