Wednesday 28 September 2016
Influential London-based business leaders attended an inaugural London Dinner, hosted by Cork Chamber on Tuesday, September 27th in the Bloomsbury Hotel, London where they discovered the unique and exciting opportunities that the Cork region offers investors and their employees.
Ronan Daly Jermyn was a sponsor of the event, which is part of the 'Connecting Cork' initiative being run by Cork Chamber. The initiative aims to showcase opportunities in what will be the second largest English speaking city in the EU post-Brexit.
The event, organised in partnership with Irish International Business Network (IIBN), IDA Ireland, and Irish Funds, included a panel discussion with Cork-based business leader, including Donal Sullivan, VP of Tyco; Peter Coppinger, CEO, Teamwork.com; and Peter Kane, MD of Citco Fund Services.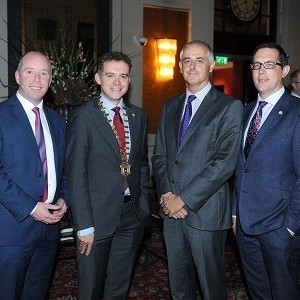 Pictured above are John Cleary, commercial property developer; Barrie O'Connell, Chamber President; Richard Martin, Managing Partner, Ronan Daly Jermyn; and Conor Healy, Chamber Chief Executive.